On 2nd February 2021, India's first Centre for Wetland Conservation and Management has been set up in Chennai. There are 42 wetlands in India that have international importance and hence recognized as the Ramsar Sites in India 2021. Ramsar Sites are wetlands that have international importance.
The term was coined when the International Treaty for the Conservation and Sustainable Use of Wetlands was signed at a city of Iran called Ramsar in 1971. The topic, 'Ramsar Sites of India' is important for the upcoming IAS Exam.
Hence, candidates should read about Ramsar Sites and the Ramsar Convention for UPSC preparation. Read on to get the relevant facts about Ramsar Sites and the list of Ramsar Sites.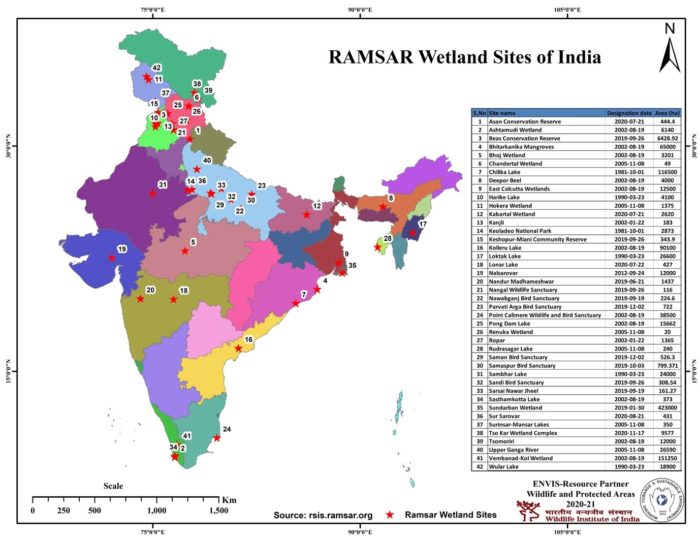 List of Ramsar Sites in India 2021 updated…..
Sl. No.
Name of Site
State Location
Date of Declaration
Area
(in Sq. km.)
1
Asan Conservation Reserve
Uttarakhand
21.7.2020
4.444
2
Asthamudi Wetland
Kerala
19.8.2002
614
3
Beas Conservation Reserve
Punjab
26.9.2019
64.289
4
Bhitarkanika Mangroves
Orissa
19.8.2002
650
5
Bhoj Wetlands
Madhya Pradesh
19.8.2002
32.01
6
Chandertal Wetland
Himachal Pradesh
8.11.2005
0.49
7
Chilka Lake
Orissa
1.10.1981
1165
8
Deepor Beel
Assam
19.8.2002
40
9
East Kolkata Wetlands
West Bengal
19.8.2002
125
10
Harike Lake
Punjab
23.3.1990
41
11
Hokera Wetland
Jammu and Kashmir
8.11.2005
13.75
12
Kabartal Wetland
Bihar
21.07.2020
26.20
13
Kanjli Lake
Punjab
22.1.2002
1.83
14
Keoladeo Ghana NP
Rajasthan
1.10.1981
28.73
15
Keshopur-Miani Community Reserve
Punjab
26.9.2019
3.439
16
Kolleru Lake
Andhra Pradesh
19.8.2002
901
17
Loktak Lake
Manipur
23.3.1990
266
18
Lonar Lake
Maharashtra
22.7.2020
4.27
19
Nalsarovar Bird Sanctuary
Gujarat
24.09.2012
120
20
Nandur Madhameshwar
Maharashtra
21.6.2019
14.37
21
Nangal Wildlife Sanctuary
Punjab
26.9.2019
1.16
22
Nawabganj Bird Sanctuary
Uttar Pradesh
19.9.2019
2.246
23
Parvati Agra Bird Sanctuary
Uttar Pradesh
2.12.2019
7.22
24
Point Calimere Wildlife and Bird Sanctuary
Tamil Nadu
19.8.2002
385
25
Pong Dam Lake
Himachal Pradesh
19.8.2002
156.62
26
Renuka Wetland
Himachal Pradesh
8.11.2005
0.2
27
Ropar Lake
Punjab
22.1.2002
13.65
28
Rudrasagar Lake
Tripura
8.11.2005
2.4
29
Saman Bird Sanctuary
Uttar Pradesh
2.12.2019
52.63
30
Samaspur Bird Sanctuary
Uttar Pradesh
3.10.2019
79.94
31
Sambhar Lake
Rajasthan
23.3.1990
240
32
Sandi Bird Sanctuary
Uttar Pradesh
26.9.2019
30.85
33
Sarsai Nawar Jheel
Uttar Pradesh
19.9.2019
16.13
34
Sasthamkotta Lake
Kerala
19.8.2002
3.73
35
Sunderbans Wetland
West Bengal
30.1.2019
4230
36
Surinsar-Mansar Lakes
Jammu and Kashmir
8.11.2005
3.5
37
Sur Sarovar
Uttar Pradesh
21.8.2020
4.31
38
Tso Kar Wetland Complex
Ladakh
17.11.2020
95.77
39
Tsomoriri Lake
Jammu and Kashmir
19.8.2002
120
40
Upper Ganga River
(Brijghat to Narora Stretch)
Uttar Pradesh
8.11.2005
265.9
41
Vembanad Kol Wetland
Kerala
19.8.2002
1512.5
42
Wular Lake
Jammu & Kashmir
23.3.1990
189
(Source: Ministry of Environment & Forests, Government of India)